With the first episode of the latest season of The Walking Dead having just aired, its millions of fans from all over the world are getting restless trying to see what happens to Rick and his friends this season. The series has veered away from the comic enough to be unpredictable, but let's face it, there are some things that you just know you're going to see: Rick spirals further into dementia, Carl skulks away and tries to be a man, and Michonne shows up just in time to slice a zombie's head off before it can eat a survivor.
So, we figured, why not make a game out of watching The Walking Dead? A game of The Walking Dead Bingo is perfect for both watching the latest episodes, and binge watching the entire series to pass the time before the next episode airs. It's quite simple, really: make a set of bingo cards containing all of the things you expect to see in an episode of TWD (i.e. legless zombies, zombies on fire, someone smearing blood and guts on themselves to try and look like a zombie, etc…) and distribute them to your friends. Once you start watching, cross off the things you encounter in the episodes, with the first one to complete a pattern being dubbed the winner.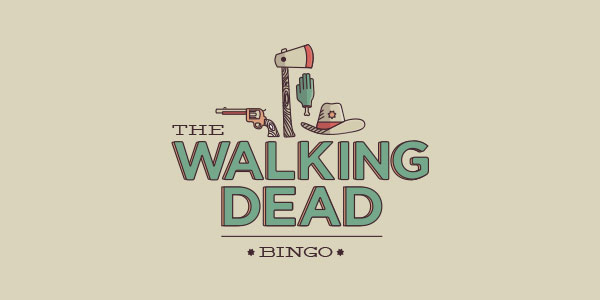 (pastemagazine.com)
What does the winner get? It's all up to you. Free Bingo Hunter says that prizes for online bingo games now have ranged from huge prizes (we're talking Peugeots and hundreds of thousands of dollars) to, well, meh prizes like shopping vouchers for obscure stores. Zombie-themed goodies will always be the better choice, of course, and maybe you could even charge a $1 entrance fee to your friends per game so you can save up for a big prize.
Too lazy to make your own cards? There's an amazing set over at Paste Magazine, but it hasn't been updated in a while so you're better off using them in past seasons. Healthy Tipping Point has a couple of cards too, but if you really want to play for Season 5, you're going to have to put your heads together to make your own cards!