1. Veronica Mars aka Kristen Bell – ah well it has go to be Veronica Mars hasn't it? When I was little I thought the coolest career possible would be to be a private eye. And I felt weird for it cos I didn't want to be a hairdresser (sorry hairstylist) or a beautician like all the other little girls I knew.
Not that there is anything wrong with wanting to make people pretty but hell PI is sooo much cooler! And good 2 decades later comes Veronica Mars and she is everything I ever wanted to be when I was little. With gadgets extraordinaire, wit, humor, snarkiness and that unforgettable taser Veronica Mars really kicked ass.
2. Buffy the Vampire Slayer aka Sarah Michelle Geller – ah the favorite of all the nerdy boys all over the world and a few not so nerdy ones either, Buffy went to school by day and kicked some vampire ass by night. The show was so popular, in fact the show is still so popular that there is a comic book and the sing-a-long, not to mention you should see my brother's face and how he is transported with delight when anyone says "Buffy"… cult following indeed. And Sarah Michelle Geller was announced as sexiest female by Maxim magazine; obviously Buffy still has great power over the male hearts world over.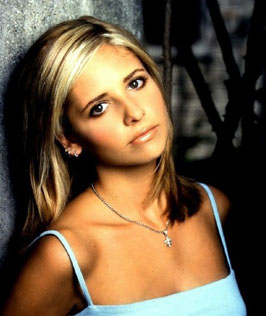 3. Kate aka Evangeline Lilly – if there is one girl on that God forsaken island that can kick some serious ass then it is Kate. No wonder as hers is the character of a runaway, but still some times I wonder if she perhaps has a bit of surplus of male hormones. If there is anyone that can outrival Sayid or Locke on the kick ass front then its Kate.
4. Niki aka Ali Larter – well in the beginning I thought Niki seemed ordinary enough. OK a bit screwed up and I couldn't understand why she was forever talking to herself in the mirror. My opinion was that she only had a split personality rather then any hero powers. But soon enough she started to kick some serious ass and continues to do so in the second season of Heroes (or what is left of it with the blasted strike).
5. Miranda Bailey aka Chandra Wilson – so perhaps dr. Bailey does not literally kick ass but goodness gracious me Nazi was an apt nickname (although I would go with Attila the Hun, it seems more appropriate). If there is anyone, anyone on Grey's anatomy that establish any sort of control on the messed up interns (well residents now) then it is dr. Bailey. And she does not even have to shout (although she does that plenty).
6. Hilda Suarez aka Ana Ortiz – of course Betty is my favorite, but I think Hilda is much neglected kick ass force in the loveable Suarez family. And if there is anyone that could tackle Wilhemina well lets just say my money would be on Hilda.
7. Temperance Brennan "Bones" aka Emily Deschanel – I think I was watching my first ever episode of Bones when this soft spoken forensic anthropologist just swiftly turned around and decked the bad guy in the head. Blink and you would have missed it was over so fast. Move over Jean Claude Van Damme!
8. Ruby aka Katie Cassidy – I have to admit it seemed a bit dubious when the producers of Supernatural were going to introduce 2 new female characters. But then I thought good, perhaps some female hormones will be good for the Winchester boys. While I'm still a bit unclear what is the purpose of their introduction it cant be denied Winchester brothers got some serious competition in the kick ass department.