I have checked my local bookies do not take bets on Emmys.
Tsss shame on them!
But I will pick my favorites regardless and we can compare on Monday how many of my hunches were spot on and how many were just bad indigestion.
Outstanding comedy series:
Entourage
The Office
30 Rock
2 and a Half men
Ugly Betty
I loved the British version of The Office (Ricky Gervais is in a league of his own, you cannot top a Brit). And even though I'd like for Ugly Betty to win, I don't think this will be the category – it was funny but not THAT funny. My money would be on 2 and a Half Men. Don't look at me I don't understand it either!
Outstanding drama series:
Grey's anatomy
Heroes
House
Boston Legal
Sopranos
This has got to be the trickiest of categories, although I do feel Heroes will win flat-out. I mean everybody loves Heroes. Grey's was meh this year. People are still talking about the ending of Sopranos or should I say the lack of an ending. House was second only to American idol, which is a mean feat and as far as Boston Legal goes well they have Captain Kirk hello! As I said tricky. But my money is on Heroes.
Outstanding actor in a comedy series:
Alec Baldwin in 30 Rock
Ricky Gervais in Extras
Steve Carrell in The Office
Tony Shalhoub in Monk
Charlie Sheen in 2 and a Half men
I'm going with Ricky Gervais, I mean if we are speaking of quality comedy you can't top him.
Outstanding actress in a comedy series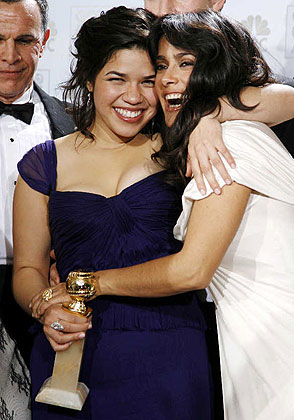 America Ferrera in Ugly Betty
Tina Frey in 30 Rock
Felicity Huffman in Desperate Housewives
Julia Louis Dreyfus in The New Adventures of Old Christine
Mary Louis Parker in Weeds
Each of these actresses and each of these series appeals to a different type of audience. However I have a hunch it might be Ugly Betty, sorry America Ferrera.
Outstanding actor in a drama series
James Gandolfini in Sopranos
Kiefer Sutherland in 24
Hugh Laurie in House
Denis Leary in Rescue Me
James Spader in Boston Legal
My money in on Hugh Laurie. I'm well aware I am biased, however this has got to be the toughest category. 24 lost its appeal, Rescue Me is brilliant, but somehow I think they will give it Gandolfini, Sopranos is an institution in its own. But as I said I'm biased so Hugh Laurie it is.
Outstanding actress in a drama series
Patricia Arquette in Medium
Minnie Driver in The Riches
Edie Falco in Sopranos
Sally Field in Brothers and Sisters
Mariska Hargitay in Law and Order: Special Victims Unit
Kyra Sedgwick in Closer
Even though these are all great actresses as there are no more Sopranos I think this one will go to Edie Falco.
So there you go. Now we only have to wait till tomorrow.